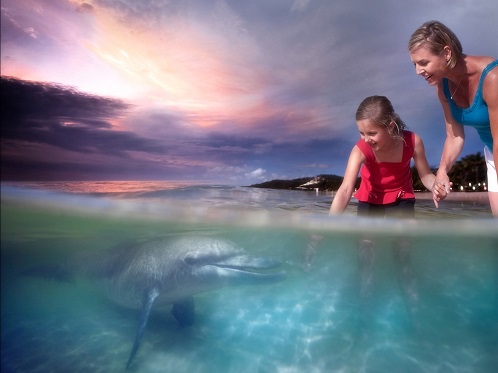 The highlight of any visit to Tangalooma is undoubtabll the opportunity to hand feed one of the wild bottlenose dolphins that visit the shores each evening at sunset. There is a large family of these playful dolphins that visit regularly, each with their own distinctive and unique personalities.
Tangalooma's wild dolphin feeding program operates each evening at sunset. The Dolphin Care Team, consisting of Eco Rangers and dedicated staff, run the program which operates to strict guidelines to ensure the protection of the dolphins.
The dolphins come into feed, usually arriving just after sunset, and of their own accord. We never call the dolphins in. It is quite normal for any one of them to be absent from the feed on consecutive nights and this is not something to be worried about – they are probably having too much fun in the Bay!
To ensure the dolphins maintain their natural instincts and independence, Tangalooma only feed each of the dolphins between 10 to 20 percent of their daily food requirement. This ensures they also hunt for themselves and can survive on their own. Herring are fed to the dolphins as they are a species that is commonly found in the Bay.
Tangalooma operates launch transfer services from Holt Street Wharf, Pinkenba in Brisbane. Passengers travel in comfort across Moreton Bay aboard one of three high speed catamarans – the Tangalooma Jet, Flyer, and Express. To reduce emissions, the fleet runs on the highest grade and only DERM-approved marine bio-fuel.
Tangalooma Wild Dolphin Feeding Experience is included in selected accommodation and day cruise packages from Brisbane.
For more information, please contact Abbie on abbie@slcrepresentation.co.uk