So the long anticipated announcement from the UK government with detail of the traffic light system has been released. International travel is back on the cards from the 17th May – but with many caveats. Each country has been categorised as either red, amber or green, and arrivals will be subject to the following restrictions: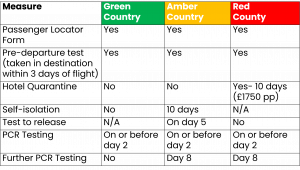 Just 12 countries made the green list: Australia, Brunei, Falkland Islands, Faroe Islands, Gibraltar, Iceland, Israel & Jerusalem, New Zealand, Portugal, Singapore, South Georgia &South Sandwich Islands and St Helena, Ascension & Tristan da Cunha. And with just four of these destinations willing to allow Brits to enter currently, what can we take from Friday's announcement? Here are the top 7 things you should know:
1. The UK government is fearful of importing new variants. With a phenomenally successful vaccine programme that has already reached 35 million Brits (over half the population), this announcement has been pegged as 'necessarily cautious'. Undoing all the progress we have made by letting in new variants is the main motivation behind limiting international travel to this extent. Never-the-less this is significant progress, and encouraging that the government have upheld their timeline of reopening this May, with a pledge to review the categories every three weeks.
2. Expect it to be harder to predict which countries are in each category. Even the experts struggled to predict this outcome, with many having been confident that a number of Caribbean islands and possibly even the USA would make the green list. The government are looking for three things: reliable data showing low or declining infection rates, a competent vaccination programme with a significant proportion of the public jabbed, and minimal prevalence of variants of concern. Gone are the days when it is as simple as plotting the rolling seven day infection figure, but the new 'watch list' of nations at risk of moving from green to amber will be a welcome addition.
3. All returning travellers will be required to take PCR tests in destination before boarding a flight home. This is hugely problematic – how easy is it going to be to find a reliable and pre-bookable PCR test on a specific date, particularly in a remote location? Destinations, hotels and tour operators that can help customers make this process both easy and affordable will be the winners.
4. Direct flights will be increasingly important. Transits requires you to abide by the rules of the most restrictive country, and with popular Middle Eastern transit hubs all in the red category, expect destinations reachable with a direct flight to dominate.
5. Brits are desperate to start travelling again. The Green List was Google's most searched item on Friday, far out-stripping the election results, with Faroe Islands and Falklands Islands (both green list nations) also making the top 15 searches. Portugal is the big winner for this announcement, being the only big European beach destination to make the cut; Jet2Holidays have seen a 600% increase in bookings to Portugal in the last 24 hours, and Thomas Cook recorded more bookings to Portugal made in one hour after the announcement than in the whole month of April. Pent-up demand is at an all time high and Brits will be willing to travel with very short notice this summer should further destinations be added at the end of June.
6. The price and availability of PCR testing across the UK is now critical. Many destinations (including Portugal) require a negative test on arrival, in addition to the tests that will be mandatory on return. Private tests have been up to £120 per person per test, adding crippling costs to any trip. But with websites like expresstest.co.uk offering tests from £50, and Boots the pharmacy starting to offer at home tests, expect big progress in this area – and quickly.
7. Directional consumer decision-making is here to stay. That is, customers are no longer free to choose where they want to go, but rather will travel to wherever they can go. This could be good news for destinations that have struggled to get cut-through in the UK market against more established brands with deeper pockets. With an industry that has been forced to hit reset, against all odds there may just be some opportunity to come from this adversity.
So there you have it – our top things to know about the latest announcement.
You can check out the most up-to-date country listings live on the government website HERE.
Get in touch if you have questions you'd like us to answer, or are keen to find out how these changes affect your brand, on info@slcrepresentation.com.