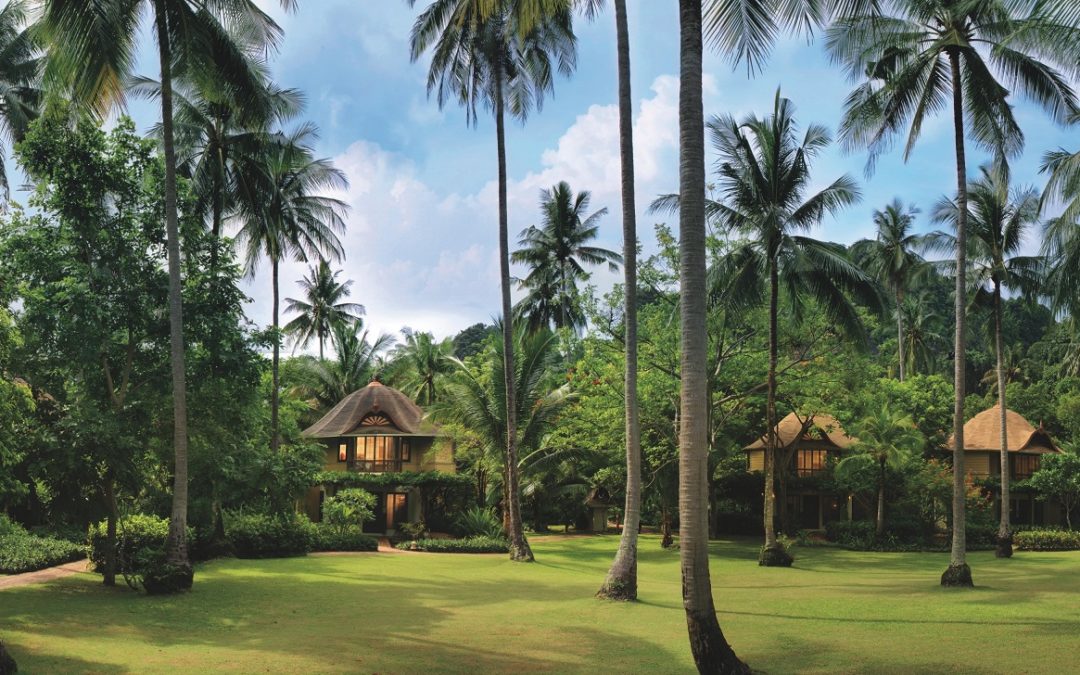 Thailand is quickly becoming one of the easiest long-haul getaways, so if you've been dreaming of a stay at one of our luxurious Thai properties, we've got good news for you. Now, not only is our Phuket collection a quarantine-free hop away, Rayavadee in Krabi has also been added to the list.
Rayavadee is a 5* resort situated in the heart of Krabi's beautiful Phranang Peninsula on the boarder of Krabi Marine National Park, an area renowned for its natural beauty and rich flora, fauna, and marine life.  The resort is made up of unique two-storey pavilions dotted throughout tropical gardens and coconut groves just minutes' walk from Railay and Phranang Beaches.
July 1st marked the launch of 'Phuket Sandbox', a pilot project to open the Kingdom of Thailand to tourists from around the world. This allowed overseas travellers from certain countries – including UK and Ireland – who have been fully vaccinated to travel to Phuket without the need to quarantine.
Last week, the Thai Government announced that the 'Phuket Sandbox 7+7 Extension Scheme' would commence, opening up more of Southern Thailand, including Surat Thani province (Ko Samui, Ko Pha Ngan, Ko Tao), Krabi province (Ko Phi Phi, Ko Ngai and Railay Beach) and Phang Nga province (Khao Lak, Ko Yao Noi and Ko Yao Yai).
This announcement signifies the progress of Thailand's plan to gradually reopen as each region prepares appropriate measures to ensure the health and safety of both tourists and locals.
We've covered off some of some of the most frequently asked questions about the Sandbox Scheme and how you can reach beautiful properties such as Rayavadee.
How does Phuket Sandbox work?
Tourists would not be required to quarantine but need to remain on Phuket until they have received a negative Covid-19 test on day 6 or 7, another negative test on day 12 or 13 would give you permission to leave and continue your travels across Thailand.
What about Phuket 7+7 Extension?
Overseas visitors still need to follow the entry requirements for the Phuket Sandbox scheme for the first 7 nights. They may then travel to any of the approved destinations for the next 7 nights, as long as they have obtained a 'transfer form' issued by their SHA Plus hotel in Phuket. The traveller will need a negative test in Phuket before transferring and another negative Covid-19 test on day 12 or 13 before they can continue to all other destinations in Thailand.
How do you transfer to the other provinces after Phuket?
Travelling from Phuket to approved 7+7 destinations is only possible via approved routes and modes of transport. Travellers need to sail on approved SHA Plus-certified boat and ferry services and dock on approved piers. We suggest you visit the Tourism Thailand website or speak to your travel agent for full details.
Can I visit all of the extension destinations?
Travellers must choose only one province extension area to stay for the 7 nights, this must be booked and paid for when you apply for the Certificate of Entry. However, you can stay in numerous SHA Plus hotels in that area, as long as they are pre-booked.
What are the full entry requirements?
We suggest you check the government websites as requirements may change.
Is Rayavadee a SHA plus hotels?
Yes! And if you book directly through their website, you can take advantage of a free night with their Stay 3 Pay 2 offer. https://www.rayavadee.com/en/
If you'd like any further information, or would like to set up a call to have an informal chat about any of our destinations or properties, please get in touch: hello@slcrepresentation.com