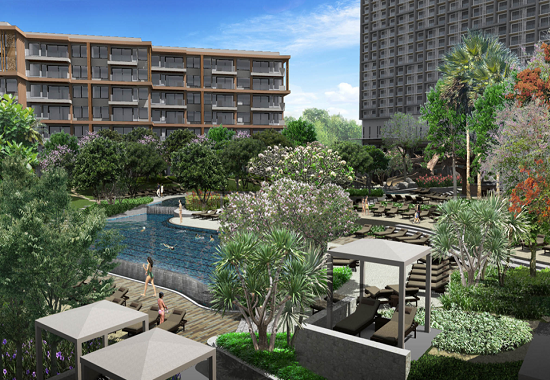 ONYX Hospitality Group, one of the region's leading hotel management companies, has announced plans to open a new 406-room OZO hotel on a site adjacent to the existing Ocean Tower of Amari Pattaya.
As part of a USD100 million investment to redevelop the iconic North Pattaya site, the Group will also launch a new premium all-suites Amari wing on the location where the Garden Wing of Amari Pattaya once stood. In addition, the 20-storey Amari Pattaya Ocean Tower and surrounding facilities will undergo an extensive refurbishment programme.
Upon completion in early 2019, the prime North Pattaya landmark will comprise three hotels with a total of 752 keys, a new state-of-the-art ballroom, a wide range of recreational facilities and dining options, enhanced pool areas and re-landscaped gardens. The site will also enjoy close proximity to the upcoming Terminal 21 Pattaya, a mega shopping mall which is a five-minute walk away.
"Through the decades of the company's ongoing growth and transformation, this iconic Amari location has stood the test of time and witnessed many milestones, achievements and events," said Douglas Martell, Chief Executive Officer, ONYX Hospitality Group. "As we approach the 45th anniversary of Amari Pattaya, it is with great excitement that we embark on plans to enhance the guest experience at this flagship property, whilst introducing a brand-new OZO and an all-suites Amari property to accommodate the evolving needs of international travellers, regional visitors and local patrons."
Featuring a dedicated entrance area and recreational facilities, OZO Pattaya will be positioned as a mid-scale hotel with signature beds in sleep-friendly rooms, energising breakfasts and superior connectivity with high-speed wifi and easy plug-and-play integration for personal devices. The hotel will also offer OZO hallmarks such as EAT and EAT2Go dining outlets, a paperless front desk and interactive kiosks featuring destination tips by OZO insiders.
OZO Pattaya is being co-developed by Orion Hospitality, a joint venture between ONYX Hospitality Group and Singapore Hospitality Holdings aimed at accelerating the expansion of the OZO and Shama portfolio across the region.
Amari Pattaya Ocean Suites, a 49-key all-suites wing adjacent to the Ocean Tower, is conceptualised in response to a rising trend among travellers who enjoy home-style comforts supported by a full range of hotel services. True to Amari's commitment towards facilitating shared experiences, this property will feature spacious layouts with connecting suite options ideal for families and friends travelling together. This newly constructed wing will be angled to ensure that every suite enjoys direct views of the sea. Each suite will also feature residential-style amenities including fully-equipped kitchens and large balconies.
The Ocean Tower of Amari Pattaya will be relaunched following an extensive refurbishment programme, with brand-new guestrooms and suites, enhanced lobby and arrival zone, upgraded Horizon Club executive lounge and Amaya Food Gallery, an innovative market-style dining concept inspired by Asian street food.
Based in Bangkok, ONYX Hospitality Group has a growing regional portfolio of 42 operating properties across three core brands in eight countries. 2017 is a significant year of expansion for the Group, with new openings scheduled in China, Malaysia, Sri Lanka and Laos.
The Group has a robust development pipeline of over 20 new properties in markets such as Vietnam, Indonesia and Australia, and has set a target of having 99 hotels open by 2024 as part of its journey towards being the best medium-sized hospitality player in the region.