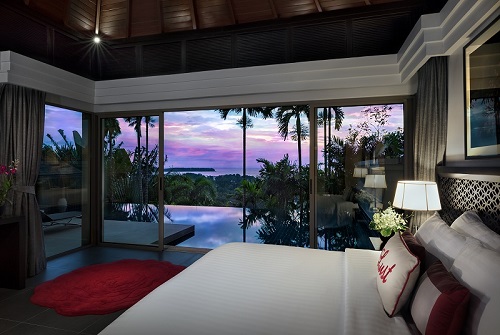 The Pavilions Phuket today announced it has been recognised as a winner in the Romance category of the 2019 TripAdvisor Travellers' Choice® awards for Hotels, ranking 13th out of 25.
Travellers' Choice award winners were determined based on the millions of reviews and opinions collected in a single year from TripAdvisor travellers worldwide. In the 17th year of the awards, TripAdvisor has recognised 7,812 properties in 94 countries and eight regions worldwide.
This year, the awards celebrate hotel winners in nine categories, including Top Hotels Overall, Luxury, Bargain, Small, Best Service, B&Bs and Inns, Romance, Family and All-Inclusive. The hallmarks of Travellers' Choice hotels winners are remarkable service, value and quality.
The Pavilions Phuket's award-winning services, private location and romantic experiences have encapsulated couples year on year. Resort guests celebrate honeymoons, anniversaries and special occasions with unique private in-villa dining experiences, relax and unwind with award-winning spa couples treatments, and indulge each evening with one of Phuket's most iconic sunset view.
"We are thrilled to receive this recognition", said Conor O'Leary, General Manager The Pavilions Phuket, 'we pride ourselves as a truly romantic destination, and knowing that the Trip Advisor Travelers Choice Awards are determined on actual guest feedback gives us great confidence for our guest's experience.''
For the complete list of Travellers' Choice award-winning hotels for 2019 across all nine categories, including the top hotels around the world, visit: www.TripAdvisor.co.uk/TravelersChoice-Hotels