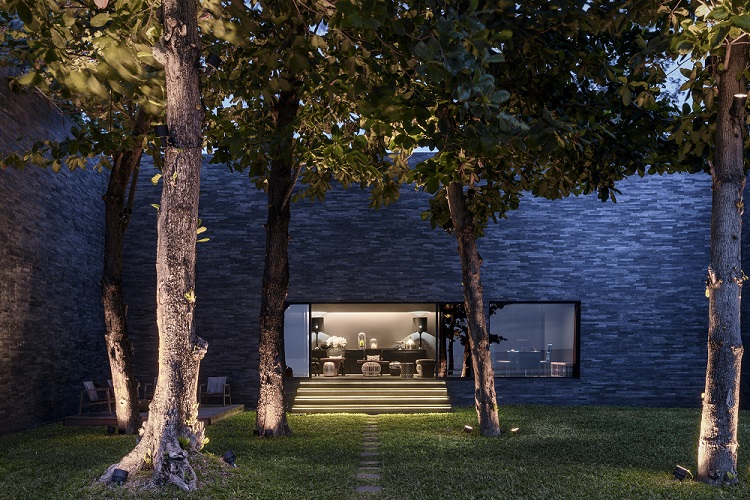 Koh Samui, September, 2018 – The Library is pleased to announce the final additions to its award-winning "Secret Chapters" – The Writer and The Editor – 2 singular, ultra-luxurious pool villas designed respectively by Kasemtham Sornsong, owner and creative director, and Tirawan Songsawat, project manager and interior designer.
Early in the year, the iconic beachfront hotel took top honors during the prestigious BCI Asia Interior Design Awards (IDA) for its original take on pool villas. The independent panel of jurors from Hong Kong, Singapore and Thailand recognized the new collection as "an aesthetically pleasing space that provides both freedom and privacy, like an island where one's secret can be concealed." With the opening of The Writer and The Editor this September, The Library completes a brilliant sequel which aims to deliver outstanding leisure experiences though conceptually engaging design and warm Thai hospitality.
Design Rebel
The enduring design philosophy of The Library is that of minimalism, and The Writer subverts that narrative with a play of contrasts – a merging of flamboyant interiors and sharp-lined exteriors, a juxtaposition of the modern and the exotic, a melting pot of Western and Eastern sensibilities! Borne from the imaginative mind of The Library's owner, Kasemtham Sornsong, this 359-square-meter pool villa stands as a singular bold statement of a well-traveled working creative. Key features include an absolute beach frontage and access, a custom-made 11-feet-wide bed, dedicated living and dining spaces, library, outdoor cinema, expansive courtyard with private gym and Jacuzzi, an upper floor terrace with spectacular views and an 8.5 x 7.5-meter saltwater swimming pool. The Writer is the largest and most exclusive pool villa available at The Library and is for adults only.
A Mood for Love
In a profoundly evocative and romantic atmosphere, The Editor's core ethos is revealed through its obdurate focus on "emotion". Interior designer, Tirawan Songsawat lends her artistic vision in creating a special space for traveling couples where every room has a specific scenario. A beautiful palette of seductive red hues awakens the passion and verdant green tones soothe the senses. Key features include a custom-made 11-feet wide bed with mood lighting, full dining area with pantry, dedicated reading room, outdoor sala, a spacious Jacuzzi bathtub and an 8-meter-long saltwater swimming pool. The Editor is a bespoke 278-square-meter villa for 2 adults.
New Heights of Luxury
With an enchanting beachfront location and a minimalist design, The Library on Chaweng Beach is the perfect place to curl up with a good book. True to its name, this unique conceptual hotel features an expansive library of over 1,400 books available for guests to borrow. This wealth of literature is complimented by the clean lines and bold design choices of its 46 luxury pool villas, suites and studios, each furnished with a reassuring assortment of premium amenities and entertainment technology. Furthermore, a world-renowned red swimming pool provides stark contrast to the alabaster-white buildings of the property. But the lasting respect for the surrounding landscape is unequivocal. From The Page restaurant holding fort on the beachfront, to the Drink Gallery and Tapas Bar fronting the street, The Library seals the chasm between nature and modern life.
For more information click Here.