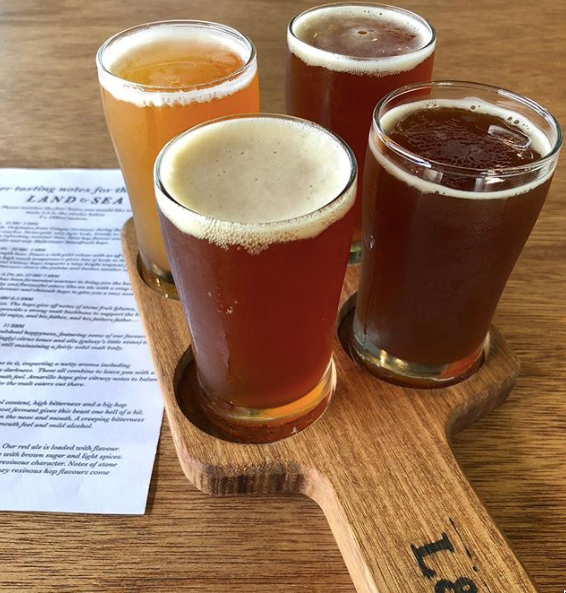 It can be hard work relaxing in Noosa, shopping and exploring the beautiful nature that is all around. Noosa has you covered with its amazing new boutique craft brewery scene to quench your thirst and refuel.
Land & Sea Brewery – is ultra-modern with an industrial feel, yet still warm and welcoming. Grey concrete abounds the main structure with sky-high ceilings, large bi-fold doors and maximum natural light flowing through the venue. Their craft lagers are tasty and crisp with perfectly matched food. There is talk of a distillery opening on site soon too! Click Here for more.
Copperhead Restaurant and Brewery – in Cooroy offers a full tantalising restaurant menu with a great bar, new beers from Sunshine Coast micro-breweries and an extensive wine list. The purpose-built space is stunning, fitted out with timber, high ceilings and gorgeous chandeliers. Click Here for more.
Noosa Heads Surf lifesaving Club – Celebrating its 90th year, Noosa Heads Surf Club is an iconic experience when you come to Noosa. Having just undergone a major refurbishment, think cold beer, a bucket of prawns and arguably the best view in Australia, overlooking Noosa Main Beach. Click Here for more.
Eumundi Brewery – is located in a state-of-the-art space at the Imperial Hotel headed up by Australia's largest beer label, Lion. Try The Eumundi Brewery Lager after shopping at Australia's largest artesian market – The Original Eumundi Markets. Look out for additional seasonal brews and Eumundi Brewery Tasting Tours. Click Here for more.
Bonsai Brewhouse – shows off its rustic charm in the quaint country town of Cooran. Located in a renovated historic sawmill building, the brewery crafts their own ales, lagers, sours, hybrids and gluten-free beers and ciders – the non-alcoholic Sundazer is amazing with flavours from locally grown ginger and honey. Click Here for more.
Habitat Noosa – is traditionally known as offering glamping, camping and cruising along the Noosa Everglades. Add to these experiences the brand new CootharaBAR boutique brewery where you can sit with a beer amongst the gum trees and kangaroos. The bar is open every day from 11 am. Click Here for more.
Opening just in time for Christmas….
Heads of Noosa – is named after the nearby rocky headlands of Noosa Heads, which created inspiration to use raw natural ingredients and turn them into some of Australia's finest beers. The brand-new build is huge with soaring ceilings, oversized wooden entrance door with a promise to support local and deliver quality food and beer with the purest ingredients. Click Here for more.
Don't Want To Drive?
Sunshine Coast Craft Beer Tours – run informative behind the scene tours to the new craft brewery scene in Noosa. The Noosa Brewery Trail includes stops at Land & Sea Brewery, Eumundi Brewing and Copperhead Restaurant Brewery for tastings, meet the brewer, lunch and transport with a knowledgeable guide. Click Here for more.