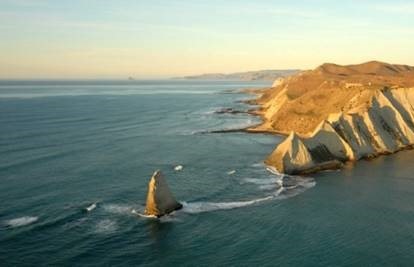 Explore Central North Island is made up of 8 fantastic regions within Central North Island New Zealand, this month we take a look at what's hot in the regions of Hawke's Bay, Hamilton & Waikato, Ruapehu, and Taupo.
Gannet Safaris Overland Sunrise Tours www.gannetsafaris.co.nz/
The East Cape of New Zealand is the first in the world to see the sunrise each day. Enjoy a unique tour to Cape Kidnappers and watch the sun rise over the gannets. Travel in a 4 x 4 Range Rover (maximum 4 people) on an exclusive tour to this iconic site – the largest accessible mainland gannet colony in the world! Your personal tour will take you overland to the largest accessible gannet colony in the world through Cape Kidnappers Station which is approximately 2,500 hectares and a 200-hectare native bush sanctuary hosting introduced Kiwi and Tuatara with a predator proof fence running from coast to coast. On the sunrise tour a light breakfast is supplied with freshly brewed coffee
New Zealand's only commercial tea plantation wins tops prize at global tea championships
Zealong Tea Estate in Hamilton, Waikato has won the top prize, in the pan-fired green category of the spring hot (loose leaf) contest at the Global Te Championships in Colorado, United States.
Last year, Zealong Tea Estate topped all their categories at the World Tea Expo in Las Vegas, meaning this Waikato based Tea Estate is world-class and competing on the same level as tea from long-established traditional tea growing countries.
The award-winning, organic tea plantation is open to groups and FITs with stunning views across the plantation to enjoy a tasting and high tea, or the Discover Tea Experience Tour which includes The Tea Walk tour to learn about the history of tea in New Zealand and story of Zealong.
Waitomo Adventures New Day Spa and Centre Set to Open
Waitomo Adventures are set to open their brand-new centre and day spa in early December 2018. The centre which has been 12 years in the making will feature a day spa on the ground floor which will have massage and beauty therapy treatments, as well as floatation pods for visitors to relax and unwind after their caving activities or a relaxing alternative. Level two of three story building will house a café for those wanting to grab a bite to eat with raw and organic food options and will also be the departing point for their suite of caving experiences such as the iconic Lost World, 100m abseil. Lastly, level three will provide community and office space. This exciting development in Waitomo means visitors will have a greater choice of activities above and below the ground in Waitomo. www.waitomo.co.nz
Taupo wins Ironman 70.3 World Championships
Taupo is thrilled to have been successful in their bid to host the Ironman 70.3 World Championships in 2019. The event will see more than 18,000 athletes, supporters, sponsors and media from all over the world descend on the central north island town in November 2020 for what promises to be an exciting time for triathlon sport. "After 20 years of the Taupo community producing world class IRONMAN and 70.3 events, we have the ultimate reward being named the host of the IRONMAN 70.3 World Championships in 2020", states Race Director and Taupo Resident Wayne Reardon. "This is one of the most significant dates in the global triathlon calendar and is a coup for our sport in New Zealand to host such a pinnacle event".
www.ironman.com/triathlon/events/ironman-70.3/world-championship
Chateau Tongariro
Surrounded by the sacred peaks of Ruapehu, Ngauruhoe and Tongariro, Chateau Tongariro Hotel exudes a timeless elegance deeply rooted in New Zealand's heritage. Occupying a prime spot in Tongariro National Park, the hotel honours the gracious gift of tribal land to the people of New Zealand in 1887. Iconic to all those that know it this hotel is definitely one for the bucket list.
Download the complete Visit Ruapehu product guide here: https://www.visitruapehu.com/media/3765/visit-ruapehu-trade-product-guide.pdf