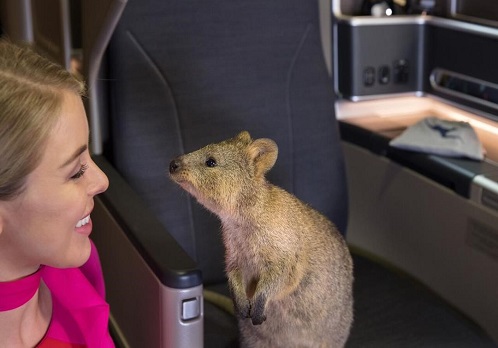 THE world's ever first non-stop flight from the UK to Australia took off on Sunday, on a journey of 14,498km. The brand-new Boeing 787-9 Dreamliner, carrying up to 236 passengers, will spent just under 17 hours in the air, flying at an average speed of 538mph — before landing in Perth, Western Australia, at lunchtime on Monday.
Qantas, Australia's national carrier, will now operate daily non-stop flights from London to Perth, using the brand-new Boeing 787-9 which seats up to 236 passengers. With an enhanced cabin design, the Dreamliner also features turbulence dampening technology, improved air quality to reduce jetlag and 65 per cent larger windows to give passengers an increased sense of space.The plane has 42 business class "suites", 28 premium economy seats and 166 economy seats. Return Qantas Economy seats from Perth start from £793 per person.
What used to take four days and seven stops in 1947 now takes a single hop, with the service transporting snow-blasted Brits to Australia's sunniest city in just 17 hours.
Passengers on the first ever non-stop flight from the UK to Australia told today (SUN) how they felt like 'pioneers'. Travellers aged from three months to 77-years-old checked in for the 17-hour flight that took off at 1.15pm yesterday (SUN). And many told how they were thrilled to be a part of history.
The very first person to check in for the historic flight was Tom Allett, 54, of Stanford, Lincs. Mr Allen, who works in the aviation industry, said:
"I'm very pleased to be here and I feel very privileged to be taking part in this little bit of history. I am going on business and it's a massive advantage to be going non-stop."
The Travill family took their five children aged between two and 14 on the historic flight. Parents Martha and Ross, both 42, are seasoned travellers but said flying non-stop would be a massive bonus with their children Oscar, 14, Otis, 11, Kitty, 8, Minnie (CORR), 7 and Tabatha (CORR) 2.
Mrs Travill said:
"We are very excited to be here today – we feel like pioneers in a new age of travel.
Husband and wife Stuart (75) and Jennifer (77) Binks, of Boston, Lincs., were going to visit their son Nicholas – who works in Perth – and their three grandchildren. Mr Binks said:
"My wife does not like flying – particularly going up and coming down – so to have to do each just once is absolutely fantastic."
Travel journalist Simon Calder, who was on the flight said:
"It's an exciting day and an historic event…You can have lunch in London and lunch in Western Australia!"
The new flight is expected to deliver a tourism boost to Perth and Western Australia – one of 2018's must-visit destinations. The flights come at a time when Western Australia's sun kissed capital has never looked so appealing. Since 2012, 25 new or redeveloped hotels have opened in and around Perth. By 2020, a further 14 new or redeveloped hotels will come online. Other developments, such as the glittering waterfront Elizabeth Quay development and several new bars, restaurants and new cultural and entertainment precincts, have transformed the city.
Paired with the growing urban sophistication is the amazing weather and flawless natural surrounds which Perth has always been known for. The city has 19 pristine city beaches, Kings Park (one of the largest urban parks in the world) and the Swan River which allows for kayaking and stand-up paddle boarding in the heart of the city. A short ferry from the city is Rottnest Island, home to miniature marsupial the quokka which has been named as the happiest animal on the planet. Then there's the Swan Valley, which is Western Australia's oldest wine region and the closest wine region to a capital city in Australia, just a 30-minute drive from the city centre. At more than 180 years old, its speciality premium wines include Chenin Blanc, Verdelho, Shiraz and fortifieds, with local grapes producing nearly 30 million bottles of wine a year – it's also home to breweries, distilleries, nougat, honey, chocolate, fresh produce and a wildlife park.
Premier Mark McGowan and Tourism Minister Paul Papalia were at Heathrow to say farewell to excited passengers and to present those checking in for the first ever QF10 with a free trip to Rottnest Island to mark the occasion.
Comments attributed to Premier:
"In just under 17 hours you can swap the bright lights of London for the endless sunshine of Perth. Western Australia's pristine beaches, otherworldly landscapes and incredible wildlife like the gentle whalesharks and the joyful quokka have never been quicker or easier to visit.
This historic flight marks a new era of travel and the opportunities which the flight opens for Western Australia are huge."
Comments attributed to Tourism Minister Paul Papalia:
"Visitors from the UK can now fly non-stop to Perth with Qantas using the latest in aviation technology. The direct flights have the potential to change the way people travel between Europe and Australia and give us the opportunity to sell Perth the as Western Gateway of Australia and the perfect place to start a holiday.
Western Australia boasts stunning landscapes, unique wildlife, flawless beaches, wonderful wine regions, and endless sunshine and with the launch of these historic new flights it has never been easier to for people from the UK to visit Western Australia."
Return Qantas Economy seats from Perth price start from £793 per person – travel period is 23 October to 5 December 2018. Visit https://dreamliner.qantas.com/ .