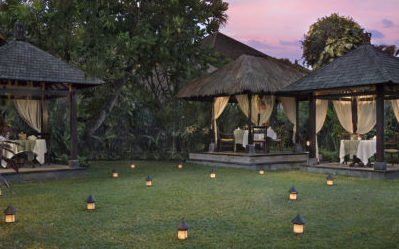 The Pavilions Bali is thrilled to share that Jahe Restaurant is participating in the NOW! Bali – Best Restaurant Awards 2019.
In Balinese, 'Jahe' means ginger, a plant known for its freshness, flavor and beauty. Likewise, Jahe restaurant is known for its authentic flavours and fresh ingredients. Guests can indulge their appetites in the tropical garden setting, with its open-air dining area and private gazebos, the perfect place to unwind after a day in the sun.
Let Chef Wayan take you on a culinary journey through the Indonesian archipelago or sample some his grill specialties, sure to make you fall in love at first bite. Our Signature Dining Experiences are the perfect choice if you are celebrating a special occasion or wish to surprise your loved one with a romantic tête-à-tête.
Pavilions Bali is a proud partner of NOW! Bali, the Island's of the Gods premier lifestyle publication, putting the love for the Balinese cultural heritage center stage and supporting a positive, sustainable tourism economy. Every year The Best Restaurant Awards promote excellency in food and beverage establishments in Bali, highlighting the front runners of what has become a world-class food scene.
Share the love and vote for Jahe restaurant here.