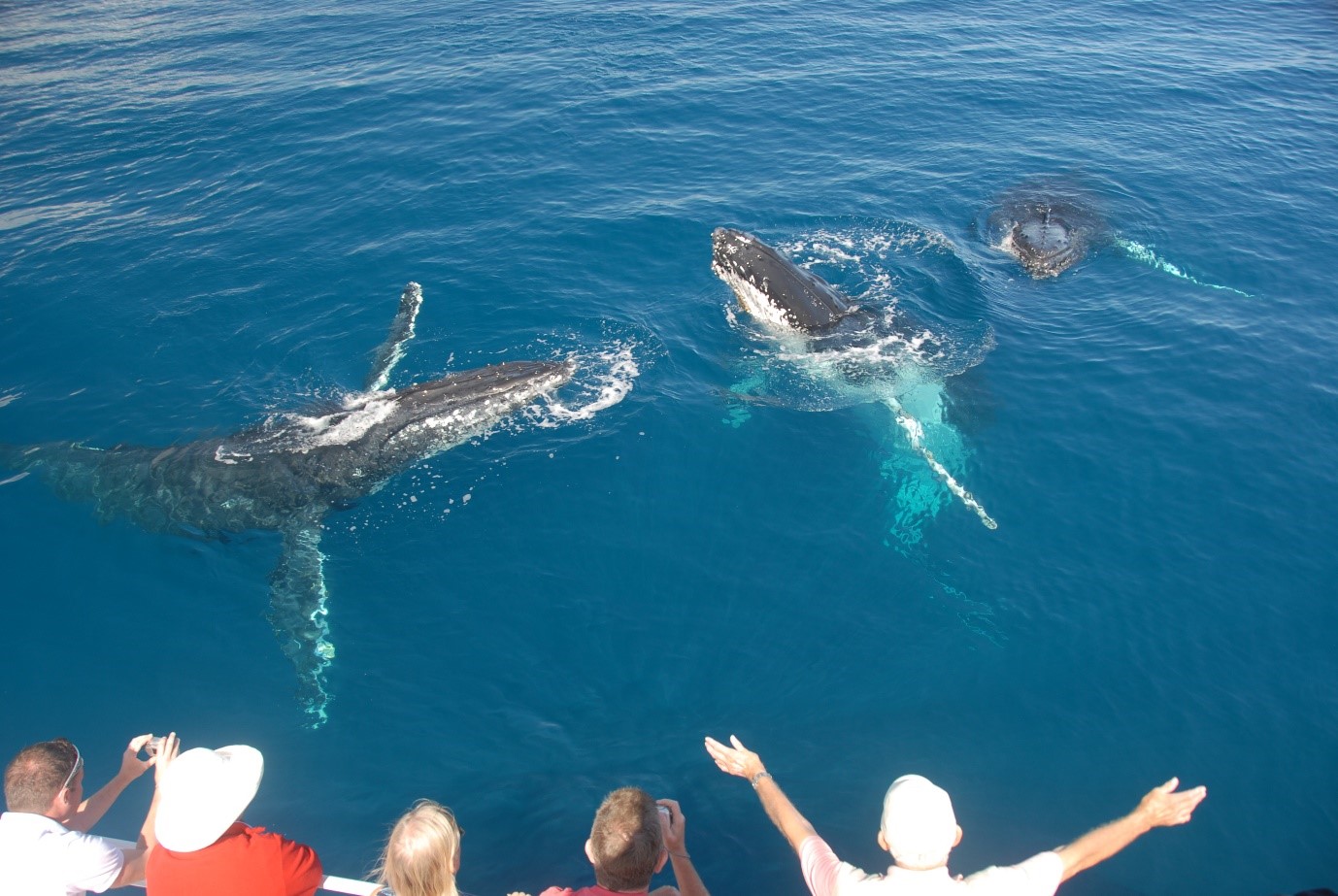 Whale season is in full swing in Noosa, with record numbers expected of humpback whales (30,000+) migrating up Queensland's coast where the warm subtropical waters offer a more comfortable mating and birthing environment.
Whale season runs from June to October, with Noosa receiving two visits from these majestic creatures, on their way up the coast and then as they head back to Antarctica through Noosa's waters with their new babies in tow!
There are daily sightings of these amazing mammals, known for their playful nature. If you're lucky enough to see (or hear) a whale, it's something you'll never forget.
There are many opportunities to enjoy this incredible experience in Noosa and nearby:
• See them from the land at vantage points around Noosa such as Sunshine Beach to Peregian Beach and Noosa National Park.
• Take a kayak tour or jetboat thrill ride from Noosa and keep a look-out
• Join a whale-watching boat tour from Mooloolaba, Brisbane or Hervey Bay – all are just a day-trip from Noosa so you are back in Noosa for dinner
• See them from the air on a scenic flight over Noosa, Fraser Island and the Sunshine Coast.
• Get up close and personal and swim with the Humpback Whales with Sunreef Mooloolaba or Tasman Venture in Hervey bay.
Spot whales from land
Whales and their newborn calves can be spotted from vantage points along the eastern beaches from Sunshine Beach to Peregian Beach and Coolum, where a coastal boardwalk provides great viewing.
Whales can also be seen from the Noosa National Park headland if they are in close. Just look for the spray of water into the air as they "blow" when they rise to the surface to breathe. Or look for a splash anywhere between the buoys offshore to the horizon as they poke their head, fin or tail out of the water. There will also be a gigantic splash as they breach, launching their whole bodies out of the water.
Tours from Noosa
Noosa Ocean Rider and Noosa Thriller are jet boat thrill rides that tour the waters around the Noosa National Park headland, with regular whale sightings at this time of the year.
Epic Ocean Adventures do guided kayak tours to Double Island Point from Noosa, and have stunning, close-up encounters with whales.
The winter water clarity is incredible and SubSurface Scuba are now offering whale watching and snorkelling tours from Noosa and Mooloolaba. Snorkelling in the calm waters offers the chance to hear the whales' song underwater.
Boat tours from Mooloolaba
Just 30mins south of Noosa, Sunreef and Whale One do whale-watching tours from Mooloolaba to the warm Sunshine Coast waters.
Boat tours from Brisbane
Brisbane's Moreton Bay, less than 2 hours south of Noosa, also has whale-watching tours with Brisbane Whale Watching.
Boat tours from Hervey Bay
The whales spend time with their young in the calm waters of Hervey Bay, about a 2.5hr drive north of Noosa, and there's a great range of half-day or full-day boat tours that take you close to the whales. Get up close on-board Tasman Venture (who also have a swim with the whales experience), Spirit of Hervey Bay, Whalesong Cruises or Freedom Whale Watch & Charters, and be back in Noosa for dinner!
See whales from the air
Flights over Noosa, Fraser Island and the Sunshine Coast also offer the chance to spot whales. Air Fraser Island have day tours and overnight experiences to the World Heritage-listed island on Noosa's doorstep.
Airborne Solutions have scenic helicopter flights, or join Paradise Seaplanes for a flight in their Wilga Warbird. Or keep a lookout during a spectacular scenic flight over Sunshine Coast beaches with Helitec.
Swim with the whales
Sunreef Mooloolaba were the first in Australia to offer the chance to swim with humpback whales – you can't get much closer than that! Tasman Venture in Hervey Bay also offer an incredible swim with the whales experience.
For more information visit:
www.visitnoosa.com.au/play
www.instagram.com/visitnoosa